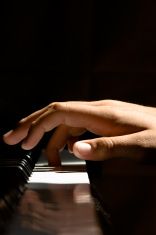 There have been many arguments about the origin of man on earth. The two primary reasons being creation theory VS Evolution theory, but I wonder if you have ever considered music as a source of evidence for one of these theories.

Well, the Pentatonic scale is a high source of proof for the creation theory. When you look at the origin of man all over the world the all, have something in common "Music", and in every culture in the purest form of melody is one scale. The Pentatonic Scale, no matter where you go in the world the Pentatonic scale is encoded into the culture.

How did this happen? Why is it that someone born in Philadelphia can sing the same melody instinctively as someone born in Japan?

The most logical answer is that there is a time in history where we were all in the same place and over time the Pentatonic scale became a part of our genetic code. How is it that Asian lullabies share the same melodic tones as amazing grace?

You might think that it's a stretch for me to make a case for the creation theory because of this fact but I find it very fascinating maybe it's just the Geek in me.




 
Check out these videos...